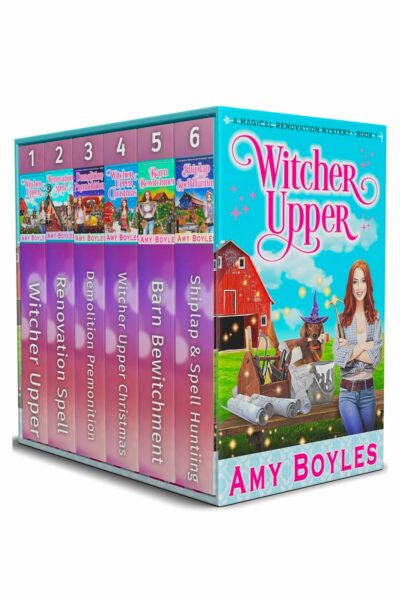 Free with Kindle Unlimited.
Magical Renovation Mysteries Box Set
Magical Renovation Mysteries, Books 1-6
Six full length-novels!
1000 pages of reading.
Start this delightful series full of all things Southern!
If you love sassy heroines, fixer uppers, wounded heroes, and spunky old ladies, you're going to love these books!
Clementine thought she had escaped the past…boy, was she wrong.
Southern gal Clementine Cooke is busy. The house renovation business she runs with her best friend in the small town of Peachwood, Alabama, is thriving. That is until Clementine discovers her partner dead, encased in poured concrete.
It looks like murder. Clementine starts to investigate, quickly realizing that not only had her so-called best friend spent years lying to her, but plenty of folks wanted her dead–from the unionized wizard mafia to the old lady quilting club. But even with haters coming out of the woodwork, Clementine finds herself fighting off suspicion. She must locate the killer before the local police chief tosses her in jail and throws away the key.
With no one to turn to, she enlists the help of a wizard suffering from amnesia. But there's a hitch–he might not remember who he is, but Clementine does, and for her own reasons, she's not talking.
Can Clementine clear her name and save her business? Or will this be one magical renovation that winds up in demolition?
Why wait? Start reading the series now!