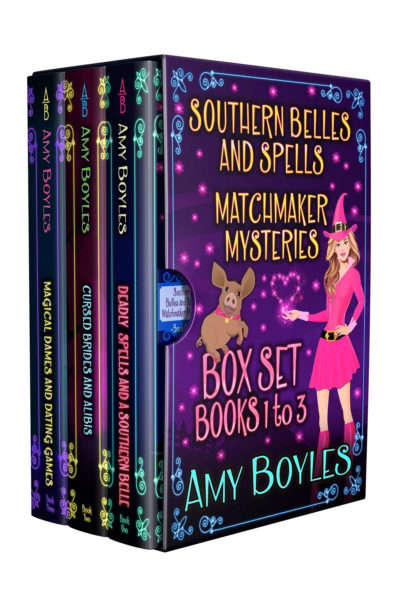 Free with Kindle Unlimited.
Southern Belles and Spells Matchmaker Mysteries Box Set
Southern Belles and Spells Matchmaker Mysteries, Books 1-3
Escape to Witch's Forge, a magical town tucked deep in the heart of Tennessee's Smoky Mountains.
Only Witch's Forge isn't a supernatural paradise—here spells backfire, kudzu bites and magic is broken.
That is until Charming Calhoun arrives.
Charming has everything a Southern Belle could ask for—a thriving matchmaking business and great employees.
But when one of her employees goes missing in Witch's Forge, she quickly realizes there's something sinister afoot.
Once she arrives, Charming discovers a world of strange. Her house has a mind of its own—adding rooms and coughing up objects. There's also a broomstick that likes to spank and a pot-bellied pig with an appetite for chocolate.
Then she butts heads with the local vampire chief of police.
What?
A handsome vampire cop in a town full of witches? Vampires and witches are mortal enemies.
But Charming better stay on the vampire's good side because when someone winds up dead, everyone's a suspect.
She's got her work cut out for her. Can Charming solve the mystery and return to her old life?
Or will she discover that in the Smoky Mountains her life truly begins? And if so, can Charming survive long enough to enjoy it, or will she become the murderer's next victim?
This collection features three books6mdash;Deadly Spells & a Southern Belle, Cursed Brides & Alibis, and Magical Dames & Dating Games.