Southern Curses
Sweet Tea Witches, Book 5
The dead should stay dead…unless they were alive to begin with.
Life for Pepper Dunn is just beginning to slow down in the magical town of Magnolia Cove, Alabama, when her Uncle Donovan, who is supposed to be deceased, appears on her doorstep very much alive. Turns out Uncle Donovan faked his death to avoid the werewolf mafia, a dangerous group who will stop at nothing to get their hands on him.
But when a hit on Donovan goes wrong and someone else winds up murdered, it's up to Pepper and her boyfriend Axel to find the killer before another life is taken. Can she do it? Or will Pepper be next in line to face off against a killer?
Chapter One
I stood in the middle of my store, Familiar Place, ruminating on the events that had occurred two weeks earlier. For one, Rufus Mayes had appeared and tied my magic to his. That meant whenever I wielded my power, it was syphoned off to Rufus to use at his disposal.
When my boyfriend, Axel Reign, had tried to break the spell, he discovered that sneaky Rufus had placed a counterspell on it. If Axel attempted to free me, he would shift into his werewolf form.
Well all heck's bells and shrimp and grits broke loose, and Axel and I found ourselves in a situation where there was no other choice but to work the magic that turned him into a werewolf. Actually I hadn't wanted Axel to do it, but I was overruled.
By the way, have I mentioned that my name's Pepper Dunn and I'm a witch?
Yep. You got it. Witch with a capital W. That's me.
Even though Axel had been forced into his werewolf form, he hadn't hurt anyone in town, which was a huge blessing straight from the lap of heaven itself, if I do say so. Because let's face it—people think werewolves are man-eating beasts. Oh, and it doesn't help that Axel is chained up in the Cobweb Forest every full moon to prevent such a tragedy from occurring.
Anyway, a super cool thing happened—I spoke to the werewolf. Not in words or sign language, but in my mind. See, I can communicate with animals. It's part of my magic.
After Axel returned to normal, he didn't remember talking to me when he was a beast, so he had a hard time believing it. But it was true. It had happened.
I thought it was awesome because the implications were serious—in his wolf form, Axel wasn't simply an animal. He was a thinking, breathing creature. If he could communicate, he could think rationally. To me that meant maybe, just maybe he wasn't the threat to Magnolia Cove everyone believed.
If only I could prove it.
I was thinking about all this sort of craziness when my ears perked up.
A scraping from the rear of the store caught my attention. It sounded like someone entering the back door, but that was impossible. There was only one key to the shop, and I owned it.
Concerned, I stepped into the hall. Sure enough, the doorknob turned as if someone was about to enter.
Then they did. A man stumbled through. He clutched a golden key that matched mine. A golden key that fit the lock of my store.
He had thinning white hair. Oval spectacles rested on his nose. His face was round and jovial and his ruddy cheeks reminded me not of the red clay that made up the soil in Alabama, but of Santa Claus.
I instantly recognized him from his picture.
"Uncle Donovan?" I said, extending a hand.
My supposed-to-be-dead uncle fell to his knees. I wrapped my arms around him, barely processing what was happening.
"Uncle?" I repeated, confused as heck and unsure if this was a ghost or a man I was touching.
Donovan stared ahead for a moment before blinking at me. His eyes seemed to focus, and his head jerked. "Pepper! Thank goodness you're here."
"What's going on?"
Donovan grabbed my arms. "Pepper. I'm in grave danger. I'm afraid you might be, too. I need your help if we're both going to survive what's coming."
Oh jeez. Was Rufus already back? What could possibly be worse than him?
"Okay, I'm going to try not to have a heart attack about that statement," I said, pulling Donovan to a standing position. I guided my uncle to the back office and settled him in a chair. "Would you like water?"
He threaded his fingers together as if in prayer and brought his hands to his mouth. "Please, Pepper. There's no time. I need to explain things."
Then it hit me. A small wave of anger—I won't call it a tidal wave like you see folks in Hawaii surfing on, but in the South, in Gulf Shores, what's also called the Redneck Riviera, we have waves that aren't nearly as large but will still knock you on your rear end if you're not paying attention or are just plain stupid.
Yep, that was it. A small wave of anger struck me. I planted a hand on one hip and leaned into it.
"Uncle Donovan, I am going to try to be nice about this because my daddy taught me that it isn't ladylike to act foolish even when all you're thinking are silly thoughts. But I will say that for months I have believed you were dead."
He started to speak. I cut him off with the wave of a hand.
"And it isn't just me who thinks you're deceased and six feet under the earth. This entire community believes you're dead. You should be ashamed of yourself for leading on the nice folks of Magnolia Cove. There are some of the best people I've ever met living in this town, and for you to make them mourn and cry over you—well, that just ain't right, Uncle Donovan."
I know ain't isn't really a word, but I will just say in my defense that it seemed appropriate at the time.
"Pepper, sit down. There's a reason I made that choice." He grabbed my hands. "Please. I wasn't joking when I said I'm in danger, and you might be, too."
I'm going to be honest. I'm tired as heck of being in danger all the time. I'm always in fear that Rufus Mayes is going to break into Magnolia Cove and try to steal me away so he can use my powers. So hearing Uncle Donovan explain I'm in danger just didn't get my motor running. It barely even turned it on.
I did as he asked and sat behind the desk. "Okay. I'll pause on celebrating the fact that you're alive and hear what you have to say."
"Thank you." His fingers trembled as he laid them flat on the slick wood. "As you know, a few months ago I sent you a key to this shop. It happened right after your birthday."
I nodded. "Yes, I received it in the mail. Mattie the Cat appeared the same day, saved me from Rufus Mayes and brought me here, to Magnolia Cove."
He pulled a handkerchief from his pocket and dabbed his forehead. "That's what I expected Betty would do—make sure you arrived safely. I can't tell you how thankful I am. And other than Rufus, no one has bothered you?"
I quirked a brow. "No. Why?"
He sniffled. "Because of my mistake, Pepper. I never died. I faked my own death."
"I figured that."
He looked at me quizzically.
"It's obvious. You're sitting here in the flesh telling me I should be scared for my life. It doesn't take a rocket scientist to figure out you must've faked your death. But what I don't know is, why?"
Donovan cleared his throat. "Water."
Now he wants water. I rose. "Of course."
I grabbed a bottle from a small refrigerator I kept in the office and handed it to him. He unscrewed the top and drank deeply, nearly polishing off the whole bottle.
He swiped a forearm across his lips. "It all started when I received a strange request from someone out of town."
I settled back into my chair. I had a feeling this was going to be good.
"The person called himself Johnny Utah."
I snickered. "Sounds like a stage name."
Donovan shook his head vigorously. "It's not. Real name. Anyway, Johnny Utah calls up, says he's looking for a rare familiar for his niece."
A sudden wave of panic ratcheted in my throat. "You're not talking about Hugo, are you?"
Donovan squinted. "What?"
"Oh, sorry. You don't know his name. The dragon egg I received in the mail."
A few weeks ago I received a package in the mail that turned out to be a dragon's egg. After much deliberation and the murder of a magician, for lack of a better word, I ended up keeping the baby that hatched and called him Hugo. Of course, much of the reason why I kept him was because my grandmother Betty Craple convinced me that Donovan had ordered the dragon specifically for me.
Donovan smiled for the first time. "The dragon's yours. Do you like it?"
I nodded vigorously. "He's wonderful. Thank you."
Donovan looked pleased with himself. "You're welcome. I thought with your talents as a head witch, a dragon would be a smart enough companion for you. Not to mention at some point you may need the extra protection."
"Tell me about it," I said, rolling my eyes. "Seems there's trouble in this town every other week."
Donovan threaded his fingers and rested them on his stomach. "Anyway, Johnny Utah needed a rare and exotic animal for his niece. Said she'd been begging for one for months, but he wasn't sure where to get it until he stumbled upon our store on the Web."
"Are we that easy to find?" I said.
He bobbed his head right and left. "You have to know what you're looking for."
"Got it. Go on."
He rubbed his forehead. "It went against my better judgment to order such a creature, but the money was good. Not that the store is hurting for it," he said, gesturing. "It does good business."
"It does."
He fisted his hand and dropped it on his thigh. "It was about the search for such an animal. The dragon egg, you'd think that was hard, but really it's not so difficult to find those. There are several suppliers, though they screen the recipients carefully." He wagged a finger at me. "Many people sell dragons on the black market. I don't know if you're aware of that."
I nearly choked. "Yes. I'm aware. We nearly had a situation with Hugo."
Donovan eyed me sternly. "But the dragon is okay."
My cheeks flamed from embarrassment. "Yes, he's fine."
Donovan might've looked like Santa Claus, but boy, he had a way of staring a person down like only a Craple could. Trust me, I know this because I'd spent a couple months with Betty, his sister, and was she a handful.
Donovan glanced at his watch. "I don't know how much time I have, so let me be quick. The animal created a unique challenge. Could I find one, and if so, could I deliver it to Johnny Utah's niece?"
"Did you?"
Donovan nodded. "I was able to procure the creature. However, it took months and the people who gave it to me—well, let's just say I knew in my heart I shouldn't have trusted them."
He wiped the kerchief over his forehead once again. "I knew it, but they were the only lead that had panned out. The only lead."
I was intrigued. I leaned forward. "Who were they?"
His voice turned deep and foreboding. "They're called the Sensational Singers."
Mmm. Not what I expected. "I'm sorry? Did you say the Sensational Singers?"
"Yes. They're like the von Trapp Family Singers. It's a mom, dad and their children. You know, the ones from The Sound of Music? But these folks are Southern and travel all over the world."
"Wow," I said, unsure of what else to say.
"I tracked the family all the way to Lookout Mountain."
"In Tennessee?"
"Right."
Not that far to say he tracked them all the way there. But, whatever.
"They had what I needed. I paid a pretty penny for it, too."
He rested his face in his palms, and then as if out of habit, he pulled a silver coin from his pocket, flipped it a few times and then slid it back in his pants. "If only I'd known then what I know now, I never would've bought the creature. Never would've paid one penny for it, much less the thousands that I did.
"But anyway, I was elated to finally have it in my hands and called Johnny Utah as soon as my feet touched back down in Magnolia Cove. He appeared a day later, paid a handsome sum and left."
The tension was thick in the room. It was tempting to speak, to prod Uncle Donovan to discover what had been so bad that the poor man had faked his own death. And why, if he was still in hiding, had he returned to Magnolia Cove?
And how was I now a target, too?
Donovan took a sip of water. "Things went well for a while, and I didn't think anything of it until Johnny Utah called. He was upset. Something had happened to his niece, and he was convinced it was related to the creature I'd sold him."
"What's that?"
Donovan's hand shook as he placed the water on the desk. "His niece disappeared."
Also Available in Audio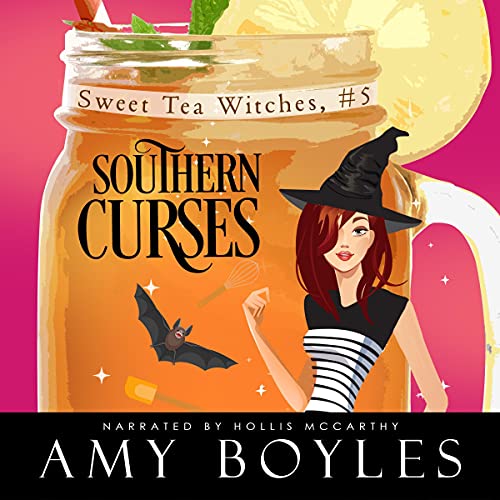 Ladybug Books, LLC
July 22, 2021
Narrated by: Hollis McCarthy
Length: 5 hrs and 30 mins
Audible

Listen to a sample below: