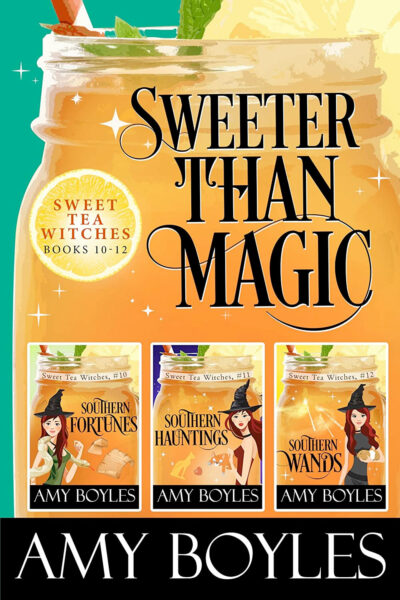 Sweeter Than Magic
Sweet Tea Witches, Box Set (Books 10-12)
Three full length novels.
SWEETER THAN MAGIC contains books 10-12 in the Sweet Tea Witch Mysteries—SOUTHERN FORTUNES, SOUTHERN HAUNTINGS, and SOUTHERN WANDS.
* * * * *
SOUTHERN FORTUNES
When Pepper teaches a class at the Southern School of Magic, she expects a run of the mill experience. But when a gaggle of mean teachers invades her classroom, Pepper is on high alert.
These women are nasty and they make no bones about disliking Pepper.
Pepper does her best to stay far away from them, but when one of the witches is murdered in broad daylight, everyone's a suspect, including Rufus Mayes, who's moved back into town.
But Rufus's intentions are honest. At least so it seems. After all, he gave Pepper an amulet that will protect her from evil. When her boyfriend, Axel Reign, discovers what Rufus has given her, he's ticked off and rightly so. Not only that, but Axel drops a bombshell on Pepper regarding their relationship that will change everything.
Can Pepper handle this new revelation in their relationship? She must decide, but there's also a murderer to catch. Can Pepper do both before she becomes the next victim of the Magnolia Cove murderer?
* * * * *
SOUTHERN HAUNTINGS
When Pepper Dunn purchases a cat figurine at a yard sale, she has no idea what she's in store for. First, a crazy woman tells Pepper that owning the item will get her killed, then Pepper discovers the item is haunted by the spirit of a dead cat.
As if things couldn't get worse, when a murder is traced back to the cat figurine, it looks like owning the object may in fact, get Pepper killed. But Pepper is no coward—she won't back away from a situation simply out of fear.
But life becomes more complicated when Pepper's personal life gets out of whack. Turns out Grandma Betty has a secret admirer and Betty is intent on discovering that person's identity, even if it means she's tracking a killer.
Then Axel makes a proposal that freaks Pepper out. Will she finally accept the fact that she and Axel are meant for happily ever after? Or will solving a murder not only get in the way of her happiness, but also get her killed?
* * * * *
SOUTHERN WANDS
Life just won't settle down for Pepper Dunn. The Head Witch Order has arrived with one mission—secure Pepper's powers for themselves at any cost.
The entire Craple household is on deck to save Pepper. Grandma Betty has formed her own resistance, and even though they're groaning about it, Amelia and Cordelia jump in to assist her. In order for Pepper to fight the Order successfully, she must tap the very depths of her power. But Pepper also needs allies. She thinks she's found one within the Order's very ranks. But when that ally is murdered, Pepper herself looks guilty of the crime.
There's no denying Pepper's got a lot on her plate—learn her magic, prove she isn't the killer and oh yes, finally give Axel an answer to his proposal. The last should be the easiest one, but Rufus Mayes is in town to help and Pepper's tangled feelings about Rufus often get in her way.
But there's no time for confusion—if Pepper wants to be free of the Order, she must magically defeat the witch in charge.
Yet she must also uncover a killer. Can Pepper do it all? Face down the Order and solve a murder without getting herself killed in the process? Will she survive long enough to give Axel an answer? Can she finally put the lingering tension between her and Rufus to rest?
And most importantly, will Betty's resistance cripple the Order's ranks or cause more trouble for Pepper and the gang?