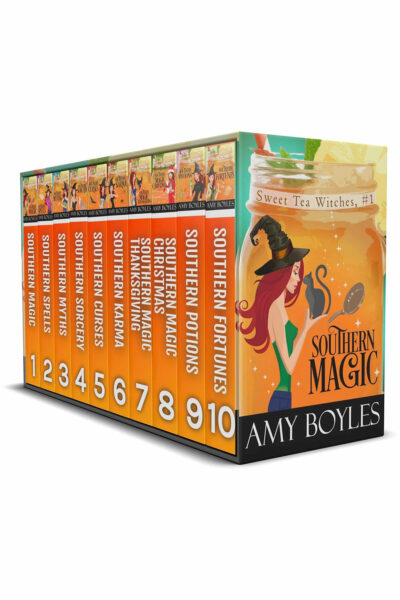 Free with Kindle Unlimited.
Sweet Tea Witch Mysteries Box Set
Sweet Tea Witches, Books 1-10
Ten full length-novels!
2000 pages of reading.
Start this delightful series full of Southern charm and sass!
It only takes a second for life to go to heck-in-a-hand-basket!
In less than twenty-four hours Pepper Dunn loses her job, her boyfriend, and her home.
It's the worst day of her life.
But when Pepper discovers she's a witch and has inherited the most important store in the magical town of Magnolia Cove, Alabama, she's as happy as a pig in mud.
Too bad the shop is a familiar pet store and Pepper doesn't like animals—not even a teensy bit. Determined to sell the shop and get the heck out of town, Pepper's plans go haywire when a local storeowner winds up dead and Pepper gets accused of murder.
Thrust into a magical mystery, Pepper teams up with a mysterious private detective and a cat so traumatized by the murder that she's not talking—and that cat could hold the key to Pepper's innocence.
Now Pepper must avoid trouble, solve the mystery, and placate her new grandmother, who keeps a strict ten p.m. curfew that's enforced by the talking end of her shotgun.
Sounds like a simple day in the life—as if. Can Pepper solve the mystery or will she become the next victim of the Magnolia Cove murderer? And most importantly, will Pepper learn to love the animals she's in charge of?
Read the first ten books in this series and be swept away to a magical town. You'll want to curl up with your favorite warm beverage and binge read these books all night long!
This boxed set of books contains the following titles: