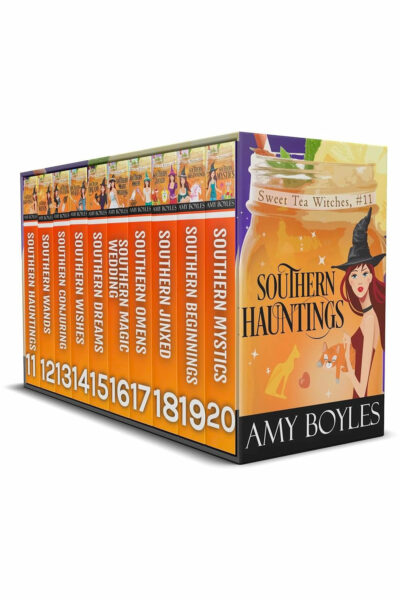 Free with Kindle Unlimited.
Sweet Tea Witch Mysteries Box Set 2
Sweet Tea Witches, Books 11-20
Ten full length-novels!
2000 pages of reading.
Continue reading this delightful series full of Southern charm and sass! Perfect for readers who love talking animals, magical towns and lots and lots of sweet iced tea.
It only takes a second for life to go to heck-in-a-hand-basket!
In less than twenty-four hours Pepper Dunn loses her job, her boyfriend, and her home.
It's the worst day of her life.
But when Pepper discovers she's a witch and has inherited the most important store in the magical town of Magnolia Cove, Alabama, she's as happy as a pig in mud. Until a murder messes things up.
Now Pepper must avoid trouble, solve mysteries, and placate her new grandmother–all while balancing her love life and meeting lots of interesting folks.
I ABSOLUTELY love this series. Good clean mysteries and SO VERY FUNNY. So many times I've been rolling in laughter from the characters antics. There's a perfect balance to the story line that makes turning pages magical.
This boxed set of books contains the following titles:
Read the next ten books in this series and continue to be swept away to a magical town. You'll want to curl up with your favorite warm beverage and binge read these books all night long!